Advertising/Marketing
Empower Biomedical Knowledge
From ads. column, press release, writing of technical article to in-depth interview,
our experts offer the best advice.
Professional Writing, Interview Report
Are you looking for resource to build up your biomedical(med-tech/biotech/pharma) company website? However, there are too many contents to put all together. Do you want to release press for your product/company? However, it's hard to find professional and suitable person to do it.
We provide editing and writing services for professional news, article, website contents and product technical documents. The editorial program includes biomedical tech-oriented interview, in-depth topic report and podcast talk…etc. All those assist you on creating professional contents. Besides, we also provide our own media channel(website, podcast) to expose your professional contents. On top of those, BioMeder is very experienced in website technologies, like website building and Internet search engine optimization(SEO). Therefore, we are sure to provide you the most capable solution.
BioMeder commit ourselves to the quality and profession of our creation. We take special care to understand your requests and products before providing our serviceslution.
We will welcome your emails to discuss opportunities to fullfill your needs.
email us: media@biomeder.com or call us@ +886 2 6605 8355 to have our Media Kit.
Website Design & Content Writing
Want to build a company website?What should we prepare for it? It's not only to show layouts, we care more about the content, wordings, company brand and product visualization.
In the past few years, we have acquired the ability and experience in website design and content planning. BioMeder's friends suggested that we should undertake this business, since we have solid knowledge and advanced technology, and are also diligent in what we intend to do. You will find how we always think of the best for our customers.
Q: There are so many website building resources and companies. What are the differences of your service?
A: Good question! We all can find many website building resources through search engines, the prices and qualities are various. Some of those are free. However, what we want to emphasize is that a good website is not just its layouts, we focus more on how we present the content, website security, search engine optimization(SEO) and keywords etc. The website maintenance afterwards should also be considered in the website plan.
Q: How long does it take for building a website? I heard it takes 3~4 months and even more than half or one year. Even so, we still need times to tune the contents.
A:Indeed, these are common phenomena. Each website builder has their own technical strength. The less tech they have, the more time they need. However, we will estimate the work time according to your needs and always be well-prepared to shorten the time we need. From our experience, the tuning can be done in two months.
If you look for people to plan or/and build your website, especially for advanced technologies, feel free to give us a call or leave us a message.
We will welcome your emails to discuss opportunities to fulfill your needs.
email us: media@biomeder.com or call us@ +886 2 6605 8355 to have our Media Kit.
Advertise On 《BioMeder》
Advertise your products, activities, courses on our blog/magazine style website, 《BioMeder》 and the social media where we run our brand. The webpages can be viewed on computers, smartphones and tablets. The layouts are designed and controlled by us and therefore can be customized to suit your needs. This makes it easier to have your advertisements seen by your audiences.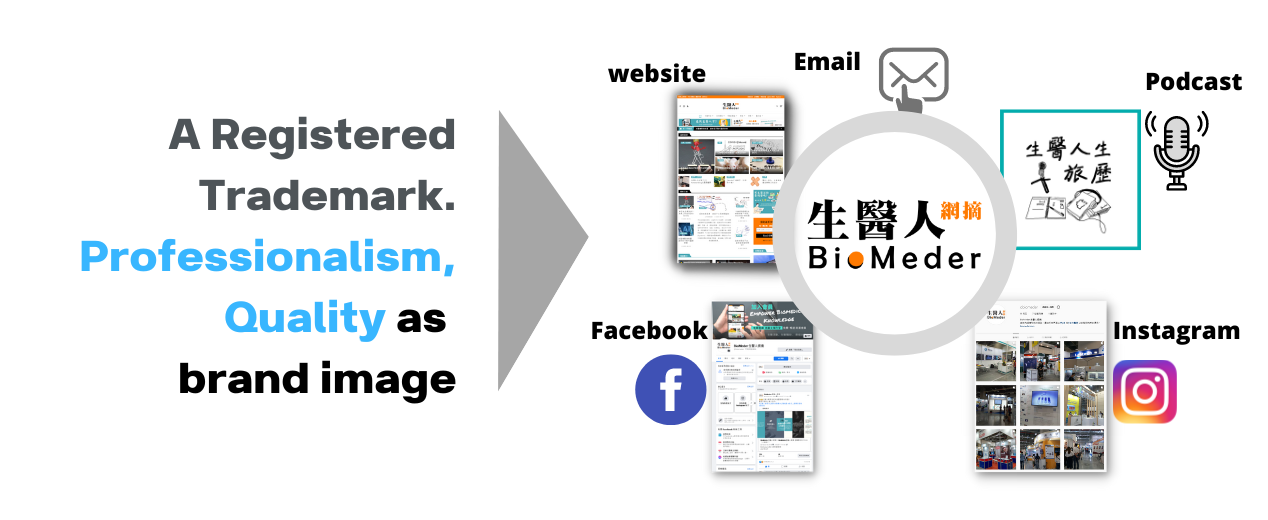 《BioMeder》is the most professional magazine/blog style website in the field of biomedical engineering and technology. We post the top latest news relating to the biomedical research and inventions happening worldwide. The contents are written in traditional Chinese characters. We insist on having professional and excellent quality articles. Our readers mainly come from academia, research institutes and biomedical industries. With targeted readers in the biomedical fields,《BioMeder》will be your best choice for advertising.
《Biomedical Life Journey》 podcast is originally from Taiwan and focusing on biomedical fields. It is the top podcast choice on biomedical/medtech topics delivering in Chinese . In the program, we talked about various technical knowledge, including topics such as science, engineering and life, and walked into the field of biomedicine with the audience. Together, we develop products, and create more industrial opportunities. Furthermore, experts in the field of biomedicine gather here, as well as people who are interested in this field.
We will welcome your emails to discuss opportunities to fullfill your needs.
email us: media@biomeder.com or call us@ +886 2 6605 8355
More Than a Biomedical News Feeder
Our readers receive knowledge instead of news or information.
Efficient Broadcasting
Right Content to Right People
Audiences
Biology, medical technology companies, academia, and research institutes
University students, experts, and enthusiasts in biomedical technologies
Medical and health product users
Type of Advertising
Advertising blocks (banner, header, sidebar), Internet links, pictures, videos
Articles designed and written for your products (《BioMeder》expects the content to be professional, scientific and logical.)
Posting opportunities for talks, conferences, exhibitions and product launch seminars
Professional Interview – 《BioMeder》Podcast Exposure
Medical and health product users
Superiorities
Target appropriate audiences
Be professional and precise
Expose products to nations where Chinese is spoken
Build a professional brand and company image with focused contents
Increase ad clicks with our steadily growing page impressions
Work together with emerging industries